Musical Cast Recording, CD
ISBN: 6201CD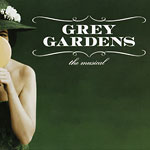 Track List:
1. The Girl Who Has Everything
2. The Five-Fifteen
3. Mother Darling
4. Goin' Places
5. Marry Well
6. Hominy Grits
7. Peas in a Pod
8. Drift Away
9. The Five-Fifteen (Reprise)
10. Daddy's Girl
11. The Telegram
12. Will You?
13. The Revolutionary Costume for Today
14. The Cake I had
15. Entering Grey Gardens
16. The House I Live In
17. Jerry Likes My Corn
18. Around the World
19. Choose to Be Happy
20. Around the World (Reprise)
21. Another Winter in a Summer Town
22. The Girl Who Has Everything (Reprise)

Label: PS Classics
Listen to music samples:
Flash Player.