Musical Cast Recording, CD
ISBN: 7693CD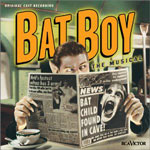 Track List:
1. Hold Me, Bat Boy
2. Christian Charity
3. Ugly Boy
4. Whatcha Wanna Do?
5. Home for You
6. Another Dead Cow
7. Dance With Me, Darling
8. Mrs. Taylor's Lullaby
9. Show You a Thing or Two
10. Chrisitan Charity (Reprise)
11. Home for You (Reprise)
12. Comfort and Joy
13. Joyful Noise
14. Let Me Walk Among You
15. Joyful Noise (Reprise)
16. Three Bedroom House
17. Children, Children
18. Inside Your Heart
19. Apology to a Cow
20. Finale: I Imagine You're Upset
21. Finale: I Am Not a Boy
22. Hold Me Bat Boy (Reprise)

Label: RCA
Listen to music samples:
Flash Player.