Musical Cast Recording, CD
ISBN: 6086CD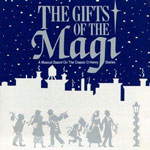 Track List:
1. Star of the Night/Gifts of the Magi
2. Jim and Della
3. Christmas is to Blame
4. How Much to Buy My Dream?
5. The Restaurant
6. Once More
7. bum Luck
8. Greed
9. Pockets
10. The Same Girl
11. Gifts of Christmas/Gifts of the Magi

Listen to music samples:
Flash Player.