Musical Cast Recording, CD
ISBN: 6040CD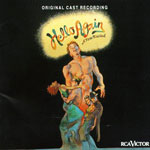 Track List:
1. Scene One: Hello Again
2. Scene Two: Zei Gezent/I Gotta Little Time/We Kiss
3. Scene Three: In Some Other Life
4. Scene Four: Story of My Life
5. Scene Five: At the Prom/Ah, Maien Zeit!/Tom
6. Scene Six: Listen to the Music
7. Scene Seven: Montage/Safe/The One I Love
8. Scene Eight: Silent Movie
9. Scene Nine: Rock with Rock/Angels Of Mercy/Mistress of the Senator

Label: RCA
Listen to music samples:
Flash Player.