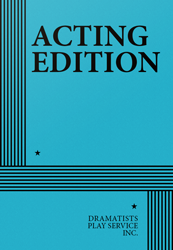 Full Length, Comedy
4 men, 3 women
Total Cast: 7, Flexible Set
ISBN-13: 978-0-8222-2167-8


FEE: $105 per performance.
THE STORY: Will Blunt is in love with Molly, a young transvestite prostitute. But when Blunt rescues him from a life on the streets, he doesn't count on Molly falling in love with Dashwood, the handsome womanizing rake. Restoration comedy meets modern sex farce in this romantic adventure, exploring the elusive nature of happiness and featuring mistaken identities, duels and double-dealings, gay marriage and the obligatory sex cave.
"Mr. Grimm seeks to do a little restoration work of his own, inserting great chunks of fresh dirt into every nook, cranny and convention of a traditional form…Impressive…An authentically sharp wit…Rich material for high-style playing." —NY Times. "An extremely stylish (and exuberantly filthy) sex farce…This is an orgy to which all are graciously invited." —Variety. "A queer-feminist gloss on the Restoration farce…abundant verbal delights…a new play for the old canon." —Time Out NY. "…A delightfully bawdy comedy with a sentimental streak…MEASURE FOR PLEASURE takes the past and makes it pertinent to the present." —Associated Press. "David Grimm's gender-inclusive modern sex comedy in Restoration bawdry is endearing and audacious." —NY Newsday.