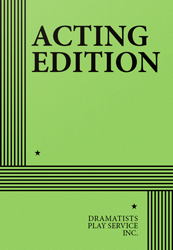 Full Length, Comedy
7 men, 2 women
Total Cast: 9, Exterior
ISBN-13: 978-0-8222-2220-0


MIN. PERFORMANCE FEE: $105 per performance.
THE STORY: DUCK HUNTER SHOOTS ANGEL is the uproarious story of two bumbling Alabama brothers who have never shot a duck but think they shot an angel. As they lament their fates in a murky swamp, they are chased by a cynical tabloid journalist and his reluctant photographer, who don't believe any of it—until feathers, wings and a tiara are discovered along the way. The play hysterically interweaves a love story, sibling rivalry, tawdry media, race relations and cultural stereotypes as the chase to find the angel builds to a crescendo in the swamp. Ultimately a sweet allegory about redemption, DUCK HUNTER SHOOTS ANGEL has been hailed by audiences as a rare comedy with a surprisingly heartfelt lesson.
"…DUCK HUNTER works—'big time' as duck hunter Dick Cheney might say—because it's sufficiently audacious to surprise and sufficiently familiar to comfort." —Variety. "…the comedy moves seamlessly between different times and settings, in part, because of clever (and cinematic) dialogue…high-energy scenes involving knock-out fights and funny wordplay." —Oakland Press. "[Mitch Albom] wisely populates his story not with stereotypes but with unique individuals. Sure, we chuckle uproariously at their antics. But underneath their colorful exteriors we discover a wonderfully diverse cross-section of humanity." —Between The Lines. "The swamp itself is a thing of beauty…Sound effects are awesome, with locusts and crickets and the deep-throated croaks of tree frogs bubbling up in the fog…a good play to see on a sultry summer evening, worth the price of gas and two tickets? A resounding yes. Laughs abound." —Lansing City Pulse.