Bringing It All Back Home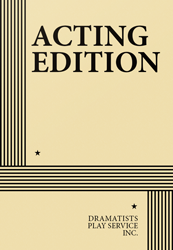 One Act, Comedy
3 men, 3 women (plus 4 nonspeaking roles for men)
Total Cast: 6, Interior
ISBN-13: 978-0-8222-0257-8


FEE: $40 per performance.
THE STORY: While brother and sister bicker meanly about pot-smoking and illicit pregnancies at their high school, father makes leering phone calls to strangers, and mother blots it all out with a portable hair dryer. Then the coffin with the body of their eldest son, Jimmy, who died in Vietnam, is delivered—followed by a television crew to film a human interest feature on the family's grief. Reacting on cue they make much of their loss and the noble sacrifice this embodies but with a glib superficiality that is both saddening and shocking. Their attention soon shifts to more immediate concerns, however, and Jimmy rises up in his coffin to address the audience. He knows now that the reason he wishes he were still alive is so he can figure out why he is dead—and so perhaps should we all.
Biting and perceptive, this devastating satire combines humor and relentless honesty to expose the hypocrisy and decadence so rife in our contemporary society, and the awful irony of the sacrifices made to preserve the status quo.