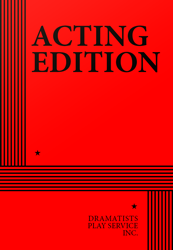 Full Length, Drama
1 man, 2 women
Total Cast: 3, Flexible Set
ISBN-13: 9780822214595

THE STORY: It is 1854. On a remote stretch of Maine coast live Captain Nathaniel Brockett and his wife, Octavia, lighthouse keepers who have had to move into the tower itself after a terrible winter storm wrecks their cottage. With them is Angeline, the young black woman raised as their daughter. Claiming that she received a head injury during the storm, Octavia begins to have attacks of delirium. Past and present merge for her as she fantasizes about the captain's lustful nature and instigates bizarre arguments with Angeline, mistaking her for a woman who died long ago. The captain tries to divert his wife with romantic tales of his adventures at sea, but her brain fever, it seems, may have other, more sinister roots. As she tries to draw the others into her suddenly realized memories, we discover how Octavia's fears have brought about her own repression as well as her apparent domination over Angeline and Nathaniel. While the captain cannot face the reality of his wife's continuing decline, Angeline can no longer suppress questions about her real mother or her heritage. Racially isolated and kept under Octavia's thumb, Angeline struggles to break free of her stifling environment. She grows stronger as Octavia weakens, but it is only upon Octavia's death that the truths she's been seeking will out, whatever the consequences.
"Lebow's three-character period play contains relational complications for a cast twice its size. The problems and memories that beset the characters are not easily disentangled…Theirs is a quite personal and unusual tragedy, made poignant by their quite ordinary humanness. Lebow once again shows that in tragic drama, the characters who refuse pity are the ones who most rouse it in us." —NY Native. "…a serious work…THE KEEPERS represents playwright Barbara Lebow's continuing exploration into ethnic deracination, a concern that began with her highly praised A SHAYNA MAIDEL." —BackStage.