The King of the United States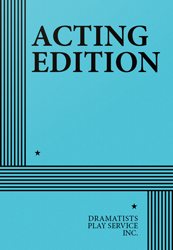 THE STORY: Creating a mosaic of imaginative and stylistically diverse scenes, interspersed with original songs, the author provides a close and revealing examination of our American penchant for selecting leaders who remind us as much as possible of ourselves. Sharply satiric, the action underscores not only the platitudes and tawdriness of American politics, but also the blind reflexiveness of the voters. We do, in effect, get what we deserve—and it is increasingly apparent that the line between president and king, democracy and monarchy (or even totalitarianism), has grown slimmer than we might care to contemplate.
Styled a "grotesque sociopolitical fantasy of modern America," this brilliantly theatrical work, which has enjoyed several notable Off-Off-Broadway productions, offers a devastating commentary on our collective flaws and weaknesses—and the questionable processes by which we choose our leaders. "…the same spontaneity and humor evident in AMERICA HURRAH." —NY Times. "As for van Itallie's writing it is simply exquisite—clean and graceful and sensitive and intelligent and truthful and everything wonderful." —NY Post.