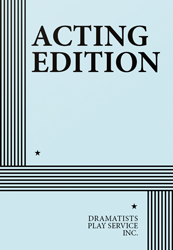 Joe Calarco
Drama
Full length
4 men: 4 total
No Set
Four actors with no set, no costume changes and no props bring the essence of this classic play vividly alive with the sheer theatricality of this timeless story. "SHAKESPEARE'S R&J, a vibrant, hot-blooded new adaptation of
Romeo and Juiliet
…pulsates with an adolescent abandon and electricity of which Romeo himself might approve." —NY Times. "R&J is a gem, the most inventive reimagining of a classic in years." —Wall Street Journal. "It's a passionately energetic, thoroughly absorbing show that is as much about the forbidden love between men as about the taboo love between young people from enemy families…R&J really resonates." —NY Newsday. "Joe Calarco's new deconstruction of
Romeo and Juiliet
…goes to show—the right hands can do nothing wrong to Shakespeare…We shall doubtless hear further from Calarco…" —NY Post. "Calarco sets the lush, lyrical story of doomed lovers in the repressed atmosphere of a modern Catholic boarding school. The result…is brave and original." —NY Daily News.
Book/Item: SHAKESPEARE'S R&J
Book Type: DPS
Price: $9.00
ISBN/Code: 978-0-8222-1679-7
FEE: $80 per performance.
THE STORY:
Four young prep school students, tired of going through the usual drill of conjugating Latin and other tedious school routines, decide to vary their very governed lives. After school, one breaks out a copy of William Shakespeare's
Romeo and Juiliet
and they all take turns reading the play aloud. The Bard's words and the story itself are thrilling to the boys and they become swept away, enmeshed in the emotion so much so that they break school rules in order to continue their readings. The rigidity of their lives begins to parallel the lives of the characters in the play: roles in the family, roles in society and the roles played by men and women soon seem to make all the sense in the world, and then, suddenly, they seem to make no sense at all. Although they had been taking turns playing all the parts, two eventually emerge playing Romeo and Juliet exclusively, bringing a whole new dimension to the proceedings. Perceptions and understanding are turned upside down as the fun of play acting turns serious and the words and meanings begin to hit home and universal truths emerge.