Home | FAQs | Join the DPS Mailing List
Sign In |

View Cart | Pay Invoice Fees | Edit Account | New Account | Sign Out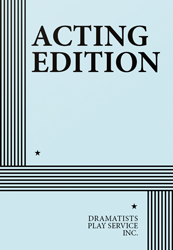 David Lindsay-Abaire
Comedy
Full Length
3 men, 4 women (doubling): 7 total
Flexible Set
"Hefty laughter. David Lindsay-Abaire's WONDER OF THE WORLD is exceedingly whimsical and playfully wicked. Winning and genial. A top-drawer production." —NY Times. "Full frontal lunacy is on display. A most assuredly fresh and hilarious tragicomedy of marital discord run amok. Lindsay-Abaire's flair for the absurd combines nicely with an ability to pull laughs out of any situation. Absolutely hysterical. A perfect season ender." —Variety. "People in psychic pain have never agonized so hilariously as in David Lindsay-Abaire's revved-up, joyously zany play." —Washington Post. "Playwright David Lindsay-Abaire, whose
Fuddy Meers
. became one of the most acclaimed comedies in recent seasons, should cement his reputation with his newest effort, a wonderfully daffy, surreal extravaganza. WONDER OF THE WORLD is a hilarious confection. Lindsay-Abaire further establishes himself here as a writer with a terrific gift for absurdist humor, leavened with just enough doses of seriousness to provide emotional resonance." —Hollywood Reporter. "Wild and crazy. David Lindsay-Abaire delights in the demented." —Associated Press.
Book/Item: WONDER OF THE WORLD
Book Type: DPS
Price: $9.00
ISBN/Code: 978-0-8222-1863-0
FEE: $80 per performance. SPECIAL NOTE ON SONG: The song "(They Long to be) Close to You" is required for production; an additional fee of $10.00 per nonprofessional performance will be added.
THE STORY:
Nothing will prepare you for the dirty little secret Cass discovers in her husband's sweater drawer. It is so shocking that our heroine has no choice but to flee to the honeymoon capital of the world in a frantic search for the life she thinks she missed out on. It's a wild ride over Niagara Falls in a barrel of laughs as Cass embarks on a journey of self-discovery that has her crossing paths with a blithely suicidal alcoholic, a lonely tour-boat captain, a pair of bickering private detectives and a strange caper involving a gargantuan jar of peanut butter, all of which pushes her perilously close to the water's edge.