Sherlock Holmes: The Final Adventure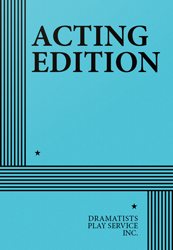 THE STORY: The world's greatest detective has seemingly reached the end of his remarkable career when a case presents itself that is too tempting to ignore: The King of Bohemia is about to be blackmailed by a notorious photograph, and the woman at the heart of this crime is the famous opera singer, Irene Adler. With his trusted companion, Doctor Watson, at his side, Sherlock Holmes pursues first the case, and then the affections of Miss Adler—and in doing so, marches right into the lair of his longtime adversary, that malevolent genius of crime: Professor Moriarty. In this spirited, fast-moving and thoroughly theatrical adaptation, Steven Dietz presents Holmes at the height of his powers—surrounded by all the elements that fans of his exploits have come to expect: danger, intrigue, wit, humor and surprise. "The game is afoot, Watson—and it is a dangerous one!"
Winner of the 2007 Edgar Award for Best Mystery Play. "Dietz's genius here is in creating both story and dialogue that could pass for Doyle's own. The playwright—who previously adapted Bram Stoker's Dracula and P.G. Wodehouse's Over the Moon to great effect—has created a gleeful whodunit that's both deeply original and an expert homage to all things Holmesian." —Phoenix New Times. "This witty, well-crafted script is very much an homage to Conan Doyle, and the play's greatest pleasure is seeing his iconic characters brought to life. A delightful evening of entertainment." —Arizona Republic. "In his original plays and in those he adapts, Steven Dietz creates interesting worlds. Dietz has now conjured Victorian England and a tidy flat at 221B Baker Street. You don't have to be a scholar of detective stories to enjoy the script Dietz has crafted—there's enough intrigue and adventure, and even a touch of romance, with the inclusion of Irene Adler, a woman who is Holmes' intellectual equal. Dietz has created a fun evening that moves quickly, and is guaranteed to please everyone who joins in the game." —BackStage.