Based on a Totally True Story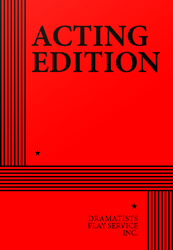 THE STORY: A contemporary comedy that moves at the speed of lightning, BASED ON A TOTALLY TRUE STORY chronicles the hilarious, bittersweet misadventures of twenty-something New Yorker Ethan Keene. A semi-successful comic book writer by day (he writes The Flash for DC Comics) and struggling playwright by night, Ethan's world is turned upside down when a veteran Hollywood producer decides she wants to turn one of Ethan's unproduced plays into a big-budget horror movie—possibly starring Nicole Kidman. With that tasty carrot clouding his vision, Ethan struggles to be a loving, supportive, giving partner to his boyfriend Michael Sullivan, a Village Voice reporter and budding novelist. On top of which, Ethan's lovable dad announces that he's leaving Ethan's mom for a married woman—and can he please stay with Ethan and Michael until he finds a new place to live? Hearts are broken, lessons learned, and dreams deferred in this quirky, offbeat romantic comedy of manners.
"There is no more entertaining show in town right now than Roberto Aguirre-Sacasa's BASED ON A TOTALLY TRUE STORY." —NY Daily News. "A brisk and breezy new comedy…Roberto Aguirre-Sacasa deftly weaves narrative, structure, and talk together into a supple flow…There's plenty of bittersweet truth to this contemporary look at love getting lost in the hustle of forging a career." —Star-Ledger. "…a promising personal-growth comedy about a young writer on the verge of his first big break and his first big break-up…[Aguirre-Sacasa] has a bam-pow rhythm and a jaunty way with the overlapping forces of emotional contradiction." —NY Newsday. "No laugh meter could measure the laughter here; it would require a seismograph. Some of the jokes may work better for insiders, but against such a no-holds-barred farce there can be no holdouts." —Bloomberg.com.