Home | FAQs | Join the DPS Mailing List
Sign In |

View Cart | Pay Invoice Fees | Edit Account | New Account | Sign Out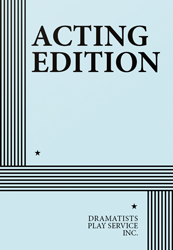 Scott McPherson
Drama
Full Length
5 men, 4 women: 9 total
Flexible Set
Winner of the 1991 Dramatists Guild Hull-Warriner Award and the John Gassner Award. Winner of the 1991—1992 Outer Critics Circle Award for Best Off-Broadway Play and the 1991—1992 Drama Desk Award for Best Play. A hilarious and wondrous account of one woman's commitment to loving others first, and her belief that giving such love has made her life unbelievably rich, even as she faces her own death. "…one of the funniest plays of the year as well as one of the wisest and most moving. When the American theater gains a new voice this original, this unexpected, you really must hear it for yourself." —NY Times. "…written with a blazing, tender accuracy that grips you with the force of revelation…" —Village Voice. "…the themes of death, love, duty, care and service are frugally intertwined in a play of considerable emotional resonance. Laughing one minute, we are shuddering with a stealthy empathy the next. Death has rarely seemed more interesting or love so complex." —NY Post.
Book/Item: MARVIN'S ROOM
Book Type: DPS
Price: $9.00
ISBN/Code: 978-0-8222-1312-3
FEE: $80 per performance.
THE STORY:
Bessie lives in Florida where she cares for her aunt and ailing father, Marvin. Aunt Ruth has several collapsed vertebrae and has to wear an electrode pack on her waist with which she can both control her constant pain and open and close her garage door at will. Unable to speak, and confined to his bed for years, Marvin's only entertainment comes from someone bouncing beams of sunlight, reflected from a small mirror, around his room. Bessie learns amidst all this illness that she has leukemia and that her only hope is to contact her long-estranged sister Lee to see if her bone marrow is compatible for a transplant. Lee reluctantly makes the trip to Florida from Ohio, bringing along her two sons, one of whom has just been released from an institution after a wave of arson. The reunion of the sisters is uneasy at best, with long buried recriminations coming to the surface even as love slowly overwhelms Lee's veneer of selfishness and glib denial. Bessie's challenge becomes to reunite Lee and her son Hank before he rejects her forever for her years of neglect. One by one, Lee and her sons are tested for the transplant, but none of them will be able to donate to Bessie who, for the moment, seems to have gone into remission. Against Lee's urging that Bessie take it easy, Bessie refuses to condemn Aunt Ruth and her father to nursing homes, claiming that only by caring for them herself will she make her own illness bearable. During a trip to Disneyland, Bessie collapses. Lee and Hank, however, have finally begun to communicate as a result of Bessie's attentions to them both. As the bad news accumulates, the play ends with Bessie taking shelter in her only refuge: In answer to her father's cries of discomfort, she selflessly abandons her own despair and helps him to bounce the day's remaining sunlight around his room.