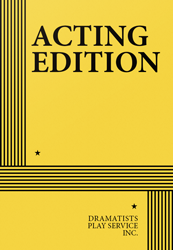 Full Length, Drama
2 men, 4 women, 3 men or women (flexible casting)
Total Cast: 6, Flexible Set
ISBN-13: 978-0-8222-1682-7


FEE: $105 per performance.
THE STORY: In the winter of 1918, progressive Chinese landowner Eng Tieng-Bin's interest in Westernization and Christianity sets off a power struggle among his three wives, which will determine the future of his daughter, Ahn, Tieng-Bin's favorite, his "golden child."
"There is a quiet though highly theatrical intelligence at work in GOLDEN CHILD…The play is composed of many…small moments of grace, which are not often seen on our stages, certainly not on Broadway." —NY Times. "An undoubtedly personal work…Hwang has a lovely time contrasting differences in culture, gender, generation and religion…" —Variety.