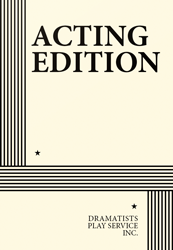 Full Length, Comedy
6 men, 4 women
Total Cast: 10, Two Interiors
ISBN-13: 9780822207351

English version from the original by Nikolai Gogol.
THE STORY: Deciding that it is time he was married, Podkoliosin, a long-time bachelor (and minor court councillor), engages a matchmaker, Fiolka, to find him a wife of suitable social status—not to mention fortune. Fiolka comes up with Agafya, the spinster daughter of a wealthy merchant, who is seeking a husband of demonstrably higher social position. Podkoliosin deigns to visit the charming Agafya, only to discover that the bustling Fiolka has rounded up four other suitors as well, which leads to some unseemly—and hilarious—bickering among the preening competitors. The suitors are all quite different (one enormously fat, one painfully skinny, one terribly tiny, another notoriously prissy), which enriches the farcical contretemps that result—and adds to the relish with which Podkoliosin's sidekick, the scheming Kochkariev, sets about winning Agafya for his friend. In the end he succeeds, but perhaps too well, as he also provides Podkoliosin with a glimpse of what marriage really entails and, as the curtain falls, the terrified would-be suitor makes his escape—leaping unceremoniously from a second story window and back to the comforting routine of blissful bachelorhood.
A sparkling version of Gogol's classic farce, premiered with great success by the Guthrie Theater in Minneapolis, and then presented by the Yale Repertory Company, in New Haven. A bitingly satirical study of social foibles in 19th century Russia, the play is equally pertinent—and funny—in application to present-day American society. "…an extraordinary piece of theatre." —Minneapolis Tribune. "…we are helpless not to laugh." —Minneapolis Star. "In a word, MARRIAGE is a delight." —New Haven Register.