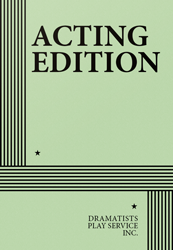 Full Length, Comedy/Drama
5 men, 3 women, plus several bit parts
Total Cast: 8, Flexible Set
ISBN-13: 9780822204688

THE STORY: Mary Traverse, the pretty, carefully schooled daughter of a wealthy London merchant, chafes at her pampered existence, and hungers for knowledge and experience of the outside world. Leaving her father's protection she is, at first, shocked by the unbridled, dissolute life she encounters in the teeming streets of eighteenth-century London, but under the corrupt tutelage of an embittered servant, Mrs. Temptwell, Mary is soon drawn into this new and fearsome world, first losing her virginity and then, in time, becoming a prostitute herself. Along the way she invades such staunchly male preserves as gambling dens, taverns and cockfights, and encounters a wide array of bizarre characters, culminating in a sexual episode with her own father—who, because Mary is by now so changed, does not recognize his own daughter. Fast paced, and comprised of a series of heightened scenes, the play alternates earthy humor with moments of great poignancy but, in the end, yields both a sense of optimism and a parallel for our own time as Mary comes to realize that only through wisdom and self-knowledge can she, as a woman, transcend the unhappiness and despair that worldly experience has brought her and progress (or traverse) toward the true freedom and sense of purpose she so desperately seeks.
A picaresque, vividly imaginative play which traces the sometimes comic sometimes perilous misadventures of a young lady of good family who leaves home to seek emancipation in the streets of 18th century London. Produced to critical and popular acclaim by London's famed Royal Court Theatre. "THE GRACE OF MARY TRAVERSE is a morality play that unravels the threads of the past to examine the present…dazzlingly witty and full of ripe earthy humour…" —Plays and Players. "The play attempts to do no less than explore 'the moral cost of knowledge and the possibility of grace in an age of despair.'" —London Telegraph. "THE GRACE OF MARY TRAVERSE is the finest and wittiest play to be seen in London this year…" —City Limits.