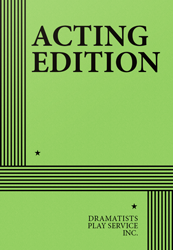 Full Length, Thriller
5 men, 2 women
Total Cast: 7, Two Interiors (one Simplified)
ISBN-13: 9780822210214

THE STORY: Picking up where the famous stories ended, the play centers on a death threat against Sherlock Holmes by the supposed son of his late nemesis, Professor Moriarty. Oddly enough, however, Holmes is warned of the plot by Moriarty's daughter, to whom Holmes (who turns out to be quite a ladies' man) is strongly attracted. The plot then twists and turns until Holmes finds himself imprisoned in a dank cellar, trapped not by young Moriarty but, to his shocked surprise, by the good Dr. Watson—who, it turns out, has long been bitterly resentful of his second-class status as Holmes' lackey. After Holmes' demise Watson comes into his own, or seems to, until a number of impostors turn up claiming to be the real Sherlock Holmes. In sorting all this out the play mixes humor and suspense in equal amounts, leading to a stunning final twist that will surely catch audiences by complete and breath-stopping surprise.
Winner of the Louis B. Mayer Award. Created by an American-born playwright-director who has become one of the most celebrated figures in the modern British theatre, this diabolically clever (and frequently funny) play was first presented as part of the Olympic Arts Festival in Los Angeles and is scheduled for future Broadway presentation. Illuminating aspects to the master sleuth's character heretofore ignored, the play is both true to the spirit of the original and a total fresh and absorbing theatrical excursion. "SHERLOCK'S LAST CASE is certainly a wonder…throwing social consciousness to the wind and simply entertaining an audience with a delightful theatrical sleight-of-hand." —LA Daily News. "Part spoof, part loving tribute and all fun…" —The Register. "…the play combines light, occasionally absurd, humor with all the twists and turns of a first-rate whodunit." —Hollywood Progress.