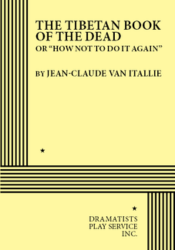 THE STORY: Based on the classic Buddhist text, the play deals with the transmigration of the soul and the choices to be made as the spirit hovers in suspended animation. Brilliantly theatrical in concept and execution, the piece blends music, mime, dance movement and spoken dialogue to create the perpetual stream of colors, sensations and illusions that assail the transient soul and seek to distract it from its proper course. Envisioned as taking place within a human skull, the play depicts the soul re-experiencing the life cycle as, momentarily, it floats free from the trials of earthly existence while striving to overcome the ambitions, wants, jealousies and fears that can obscure the crucial turning point at which it can rejoin the living "like a king" —head held high and with the errors of previous existence both comprehended and surmounted.
Blending mime, dance movement, music and spoken dialogue, this brilliantly innovative "performance piece" traces the Buddhist concept of transmigration, as the soul spins through the colorful journey from death, through suspended animation, and on to eventual rebirth.

"THE TIBETAN BOOK OF THE DEAD is a magnificent text, and van Itallie has created a powerful dramatic version of this classic work…It was one of those occasions where after five minutes I knew I was witnessing a masterpiece." —Other Stages.

"The text is simple and cogent, dignified without pretension." —Village Voice.