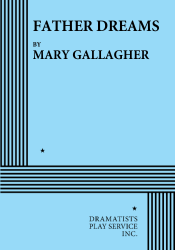 THE STORY: Described by the author as "the waking and sleeping dreams of Paul Hogan, the son, on a Sunday afternoon," the play is comprised of flashbacks and fantasies that illuminate the steady disintegration of a family dogged by the father's growing madness. A manic-depressive lawyer, whose career is destroyed by his illness, the father withdraws from reality, into surreal mood swings, leaving his wife and children impoverished and embittered. The action takes place largely in the mind of the son, Paul, as he drifts in and out of sleep while debating whether to visit his father in the institution where he has been confined. Memories are interspersed with interludes of vaudeville humor, where past and present are distorted into scenes of wild, cartoon-like fantasy. But guilt—and terror—cannot be laughed away and, as the line between sanity and madness grows thinner, we are made movingly aware that the son, while fighting to avoid the fate of his father, may, inevitably, come to share it.
A wrenching, funny study of a family falling apart which, in its original production, heralded the arrival of a highly imaginative and brilliantly perceptive writer.

"…Miss Gallagher has a genuine talent for conjuring life into theater…this is a dramatist with virtuosity as well as potential." —The New York Times.

"…hard-edged, funny, and moving." —Village Voice.