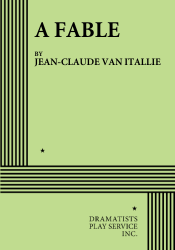 THE STORY: The action begins, once upon a time, in the village of People Who Fish in the Lake, where everyone longs nostalgically for the Golden Time, when happiness and harmony reigned supreme. In quest of what has been lost, the haughty king sends a traveler off in pursuit of the beast that is stifling the kingdom—a search filled with uncertainty and lurking terrors. As she progresses in her journey, the traveler is beset on every side, and her task grows more complex: How will she find the beast? How will she recognize him? How will she kill him? Scenes of high humor alternate with those of dark menace as she presses on, building inexorably into a brilliant and evocative mosaic which, in the end, distills and expresses the very elements of the life force itself.
Music by Richard Peaslee.

This brilliantly imaginative theatre piece uses the simplest of means to convey the essence of a broad and meaningful theme: the journey through life and the terrors which befall.

"The tale is Thurberish, William Steig-like, a picaresque journey filled with pluck, luck and comic roadblocks." —The New York Times.

"…a remarkable and beautiful achievement." —Village Voice.