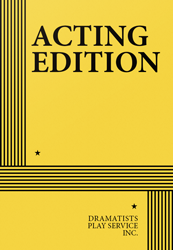 Full Length, Drama
5 women (or 2 women, 3 girls)
Total Cast: 5, Interior
ISBN-13: 978-0-8222-0350-6


MIN. PERFORMANCE FEE: $130 per performance.
Winner of the Pulitzer Prize for Drama

THE STORY: Frowzy, acid-tongued Beatrice Hunsdorfer, supporting herself and her two daughters by taking in a decrepit old boarder, wreaks a petty vengeance on everybody around her. One daughter, Ruth, is a pretty but highly strung girl subject to convulsions, while the younger daughter, Matilda ("Tillie"), plain and almost pathologically shy, has an intuitive gift for science. Encouraged by her teacher, Tillie undertakes a gamma ray experiment with marigolds that wins a prize at her high school—and also brings on the play's shattering climax. Proud and yet jealous, too filled with her own hurts to accept her daughter's success, Beatrice can only maim when she needs to love and deride when she wants to praise. Tortured, acerbic, slatternly, she is as much a victim of her own nature as of the cruel lot that has been hers. And yet, as Tillie's experiment proves, something beautiful and full of promise can emerge from even the most barren, afflicted soil. This is the timeless lesson of the play and the root of its moving power and truth.
Winner of the 1971 Pulitzer Prize, the Obie Award and the New York Drama Critics Circle Award as Best American Play of the season. One of Off-Broadway's greatest successes, this powerful and moving study of an embittered, vindictive widow and her two young daughters has been hailed as one of the most significant and affecting plays of our time. "Let's start with a single, simple word. Power…I don't know of a better (play) of its genre since The Glass Menagerie…" —NY Post. "The play itself is one of the lucky blooms; it survives, and is beautiful." —NY Times. "Off-Broadway has been gifted with a great human drama…" —NY Daily News.