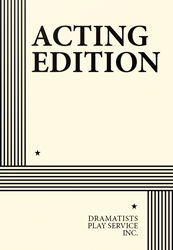 Full Length, Drama
11 men, 1 woman
Total Cast: 12, Two Interiors
ISBN-13: 978-0-8222-0585-2


MIN. PERFORMANCE FEE: $105 per performance.
THE STORY: Is outlined in the Citizen-Journal: "in 1943 an American poet living in self-exile in Paris made several broadcasts to invading American forces urging them to lay down their arms and stop the bloodshed. This absorbing and disturbing play poses the question: Did he or did he not intentionally commit treason?…Simon Otway, the central figure, is so overwhelmingly in detail, so articulate, that he becomes the unwitting artist-on-trial and the ultimate victim of his own character. The trial brings about a kind of catharsis—a mind-bending recognition of his real motives…As the poet on trial for his life and career, Grayson Goss is superb. His performance is a plea for artistic freedom, tempered with contempt for mediocrity. He catches the essence of an artist who has a superiority complex simply because he is superior." And while this superiority does set him apart, and even above, the question remains—were his actions harmful to other men, and are they punishable by the laws which all must obey? But the final outcome remains to tantalize, for there is no jury on stage during the trial scenes. The audience is the jury, and theirs is the decision on which a man's fate, and even the meaning of his life, must hinge.
This engrossing and revealing courtroom drama probes into the complex, fascinating mind and motivations of a famous American writer accused of deliberate wartime treason.

"…an intense, absorbing courtroom drama with pace, style, force and purpose." —Ann Arbor News.

"…a tough-minded, intellectually stimulating drama of ideas and ideals…" —Columbus (OH) Citizen-Journal.