The Ballad of the Sad Cafe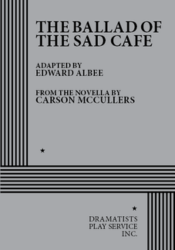 THE STORY: Amelia, the proprietor of the Sad Cafe, throws her new husband out of their bedroom on their wedding night. Torn between anger and desire the husband finally leaves town only to return some years later to find Amelia showering all her affection on a dwarf cousin who has come to live with her. At their first meeting the dwarf is hopelessly attracted to the husband. In turn, the husband moves back into the Sad Cafe, threatening to run away with the dwarf if Amelia objects. The day of reckoning soon arrives and the husband and wife meet to settle their differences with their bare hands.
"It is beautiful, absorbing, exciting, touching and absolutely enthralling—a notable addition to the literature of our contemporary stage." —New York Daily News.

"It is an engrossing evening, a salutary success for all concerned." —New York Journal-American.

"It is both beautiful and grotesque, a small masterpiece exquisitely written in a mysterious and strange style." —Women's Wear Daily.