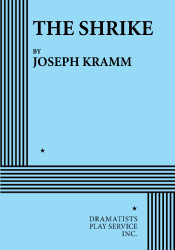 Full Length, Drama
17 men, 5 women (some doubling possible)
Total Cast: 22, Flexible Set
ISBN-13: 978-0-8222-1026-9


MIN. PERFORMANCE FEE: $130 per performance.
Winner of the 1952 Pulitzer Prize for Drama

THE STORY: Jim Downs is brought to the psychiatric division of City Hospital after a suicide attempt. With the help of his estranged wife, who is with him night and day, he recovers. But this does not mean he is free to go home. His estranged wife conspires to keep Jim in the hospital until he renounces his girlfriend and agrees to go back with her. In the process, Jim is faced with well-meaning but inept institutional psychiatrists, who themselves have become victims of deadly routine. Through one test after another he is made to prove his sanity, until he almost loses it. Realizing the power of institutional law, Jim proceeds to give the "right answers," until he is finally released in the custody of his wife. Finally free, Jim knows that by compromising his integrity he has simply chosen the lesser of two evils.
"A fascinating play." —New York Daily News.

"Remarkably enthralling." —New York Post.