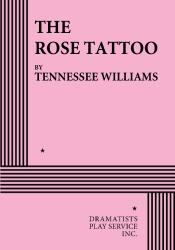 Full Length, Drama
7 men, 13 women, 3 children
Total Cast: 23, Flexible Set, Showing Interior And Exterior
ISBN-13: 978-0-8222-0971-3


MIN. PERFORMANCE FEE: $130 per performance.
Recipient of the 1951 Tony Award® for Best Play.

THE STORY: Serafina Delle Rose is a restless widow whose intense and absorbing instinct for love drives everything before it. The figure of this extraordinary woman dominates the small town where she and her friends are living and embodies the exultation and danger of unbridled passion. Her story, and that of the lover she chooses and the daughter she denies, are forged into a play of power, humanity, and soaring emotion. Set among a colony of Sicilian fisher-folk on the American Gulf Coast, THE ROSE TATTOO is the story of a woman for whom love was stronger than death.