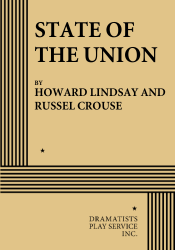 Full Length, Comedy
11 men, 6 women (of the 11 men, 3 are major roles, 3 are non-speaking of the 6 women, 2 are major roles)
Total Cast: 17, Interiors
ISBN-13: 978-0-8222-1074-0


MIN. PERFORMANCE FEE: $130 per performance.
Winner of the 1946 Pulitzer Prize for Drama.


Not only is STATE OF THE UNION a delightfully fresh satire on America's favorite pastime, politics, it's also a sharp challenge to all Americans who are interested in the kind of government they're getting and the kind of government they think they really deserve.