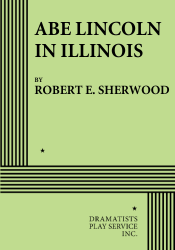 Full Length, Biographical Drama
25 men, 7 women (of the 25 men, several bit parts and of the 7 women, 2 or 3 are minor roles)
Total Cast: 28, Interiors/Exteriors
ISBN-13: 978-0-8222-0001-7


MIN. PERFORMANCE FEE: $130 per performance.
Winner of the 1939 Pulitzer Prize for Drama.

THE STORY: The play shows in a series of scenes the critical years of Lincoln's early manhood up to the moment of his election as president. We see the backwoodsman, a failure at shopkeeping, but a great favorite with friends and neighbors, slowly groping forward through the troubled years in Springfield, at last beginning to realize the great destiny before him.