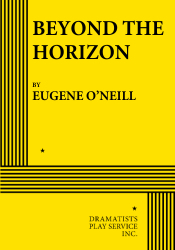 Winner of the 1920 Pulitzer Prize for Drama.

THE STORY: The introspective and sensitive Robert falls in love with Ruth, who is engaged to his brother, Andrew; she marries Robert, and Andrew goes to sea. Ruth later discovers that her marriage has been a mistake and that she is still in love with Andrew. Three years pass, and Robert, sick and disillusioned, fails to make a go of the farm. Andrew returns, but brings with him only disillusion to Ruth and Robert. The latter, who yearns for the romance his brother is supposed to have enjoyed, sees in Andrew only an unimaginative materialist.
One of the most popular O'Neill plays.