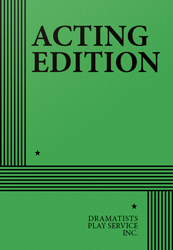 Musical, A Cabaret-Style Musical Play
3 men, 1 woman
Total Cast: 4, Open Stage
ISBN-13: 978-0-8222-0771-9

THE STORY: As described by Billboard, "MONEY concerns a wealthy young man, almost a modern 'Candide,' spurred on to do something in the world by a girl he loves. Pushed on by his love, the young man discovers that the working world, the professional world, and the institutional world is often dominated by grasping, greedy men and women. He fails in everything he attempts and it all comes out right in the end, for his pushy young woman can accept him as a complete failure. The most enjoyable parts are the skits that could have been staged as separate numbers in a revue. One is a take-off on doctors as businessmen, another is a satire on organizations and associations from the John Birchers to left-wing kooks. Most hilarious of all is the take-off on philanthropic organizations and charities. The music is most effective, the lyrics are often a gas, and there are some very funny plot lines." All blending together into a refreshing and unusual show with an infectious comic spirit which bubbles along delightfully from the fast-moving start to the all-out-ensemble finish.
An uproarious, topical musical of intermediate length which enjoyed a long run at New York's famous "Upstairs at the Downstairs." Poking fun at many of the "sacred cows" of our contemporary society, MONEY combines sharp wit and bright music into a highly original and delightfully irreverent experience in musical theatre. "…a sprightly and rewarding two act-er with a four-people cast." —Variety. "…a breezy entertainment, light and smooth, powder blue and filled with some extremely bright and hilarious lyrics." —NY Times.