Having Our Say, The Delany Sisters' First 100 Years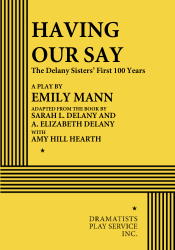 THE STORY: HAVING OUR SAY opens as 103-year-old Sadie Delany and 101-year-old Bessie Delany welcome us into their Mount Vernon, New York, home. As they prepare a celebratory dinner in remembrance of their father's birthday, they take us on a remarkable journey through the last hundred years of our nation's history, recounting a fascinating series of events and anecdotes drawn from their rich family history and careers as pioneering African-American professionals. Their story is not simply African-American history or women's history. It is our history, told through the eyes of two unforgettable women as they look not only into the past, but also ahead into the twenty-first century.
"The daughters of a minister born in slavery and a brilliant woman of mixed ancestry, the story of the Delany sisters begins in Reconstruction and progresses through the rise of Jim Crow, two world wars, the triumphs of black culture during the Harlem Renaissance, the civil and women's rights movements, up to the present…Mann has staged the three relatively brief acts with a keen eye for the jigsaw fit that a hundred years of living together would bring." —Variety.

"The most provocative and entertaining family play to reach Broadway in a long time…" —The New York Times.

"…when the show is over, you want it to go on and on…HAVING OUR SAY is a must for audiences of all races." —BackStage.

"In fact, this must be the nicest show and inspirational pep rally in town…what a life these women have led, and how lovely to hear about America's real history from witnesses who are such good company. The Delany sisters may seem too good to be true, but here they are." —Newsday (NY).

"Do see HAVING OUR SAY—it is a window on a world now lost, full of love, a little pain and a wondrous deal of hope." —New York Post.