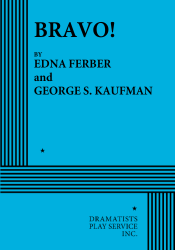 Full length, Comedy
9 men, 7 women
Total Cast: 16, Interior
ISBN-13: 990308


MIN. PERFORMANCE FEE: $105 per performance. MS.
This play from the pens of Miss Ferber and Mr. Kaufman was produced in New York in 1948. It is a glamorous and entertaining comedy about a group of refugee theatre people.