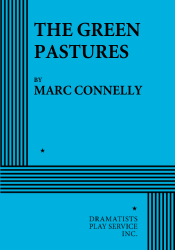 Full length, Dramatic Fable
Cast of 59
Total Cast: 118, Flexible Set
ISBN-13: 990375


MIN. PERFORMANCE FEE: $130 per performance. MS.
Winner of the 1930 Pulitzer Prize for Drama. THE STORY: Brooks Atkinson wrote of it in The New York Times: "Marc Connelly has lifted his fable of the Lord walking on the earth to those exalted heights where utter simplicity in religious conception produces a play of great emotional depth and spiritual exaltation-in fact the divine comedy of the modern theater."
Suggested by Bradford's Ol' Man Adam and His Chillun.