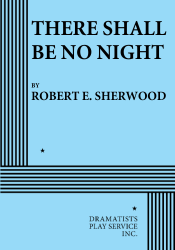 Full length, Drama
13 men, 4 women
Total Cast: 17, Three Interiors
ISBN-13: 990192


MIN. PERFORMANCE FEE: $130 per performance. MS.
Winner of the 1941 Pulitzer Prize for Drama.

It is a proclamation of faith in the courage of free men everywhere, and the essential soundness of Democracy. The principal setting is a living-room, but there are two other, very simple bare rooms, one in a hotel and one in a small schoolhouse.