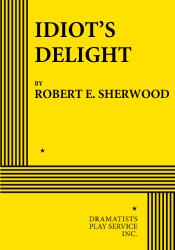 Full Length, Comedy
17 men, 10 women
Total Cast: 27, Flexible Set
ISBN-13: 978-0-8222-1618-6


MIN. PERFORMANCE FEE: $130 per performance.
Winner of the 1936 Pulitzer Prize for Drama.

THE STORY: A young English couple on their honeymoon, a German scientist, a French munitions magnate, the inscrutable Irene, and the vulgar but lovable American Harry Van are thrown together in a small winter resort in the Alps. For a short time they are forced to depend upon their own resources under threat of an air-raid, which at the last descends upon the few who are left. The play throws into ironic relief the individual human being who, having brought upon himself the obscene idiocy of wholesale destruction by war, wakes up to find that he can do nothing more than make a futile gesture against the forces he has set in action.
A fast-moving story about a group of Europeans and Americans caught in a mountain hotel on the outbreak of a world war, this remarkable play is a commentary on the greed, fear, stupidity and idealism of mankind.