Cat on a Hot Tin Roof (1974 Broadway Version)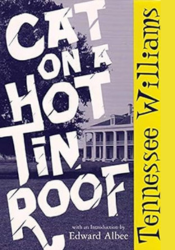 Full length, Drama
8 men, 5 women, 4 children
Total Cast: 17, ISBN-13: 978-0-8112-1601-2


Available in a trade edition.
THE STORY:
Brooks Atkinson's review in the
The New York Times
called it "a stunning drama…It is the quintessence of life. It is the basic truth." Atkinson went on to write, "In a plantation house, the members of the family are celebrating the sixty-fifth birthday of the Big Daddy, as they sentimentally dub him. The tone is gay. But the mood is somber. For a number of old evils poison the gaiety—sins of the past, greedy hopes for the future, a desperate eagerness not to believe in the truths that surround them…CAT ON A HOT TIN ROOF is a delicately wrought exercise in human communication. His characters try to escape from the loneliness of their private lives into some form of understanding. The truth invariably terrifies them. That is one thing they cannot face or speak…As the expression of a brooding point of view about life, CAT ON A HOT TIN ROOF is limpid and effortless. As theatre, it is superb."
NOTE: The standard DPS Acting Edition of
the 1958 version of this play
is also available for amateur production (ISBN: 978-0-8222-0189-2):