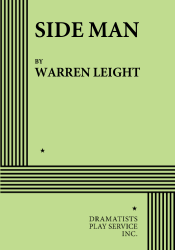 Full Length, Drama
5 men, 2 women
Total Cast: 7, Flexible Set
ISBN-13: 978-0-8222-1721-3


MIN. PERFORMANCE FEE: $130 per performance.
Recipient of the 1999 Tony Award® for Best Play.

THE STORY: Set in 1953 and traveling to 1985, this lovely and poignant memory play unfolds through the eyes of Clifford, the only son of Gene, a jazz trumpet player, and Terry, an alcoholic mother. Alternating between their New York City apartment and a smoke-filled music club, Clifford narrates the story of his broken family and the decline of jazz as popular entertainment. Clifford recalls the key moments in his life, such as the day when he, fresh out of college, picked up his first unemployment check and was congratulated by Gene and his band mates. Gene's music career on the big band circuit ultimately crumbles with the advent of Elvis and rock-n-roll. Terry begs him to get a nine-to-five job to support the family, but Gene refuses to enter the "straight world" of regular paychecks, mortgages and security. For Gene, who knows jazz better than his own son, music is not just a job; it's his life. Their marriage slowly dissolves and young Clifford is witness to it all. As things worsen, Clifford assumes the role of parent and throws the hopeless Gene out of his mother's apartment. When an adult Clifford visits Gene in a rundown jazz club after years of separation, he requests that the old man play his mother's favorite song, the old standard "Why was I Born?" Clifford then asks, "Dad, why was I born?" It becomes Clifford's last, heart-breaking plea for his father's love.
"SIDE MAN…is…a tender, deeply personal memory play about the turmoil in the family of a jazz musician as his career crumbles at the dawn of the age of rock-and-roll…It's a gentle reminder of bygone days, when a new play by Tennessee Williams or William Inge would stir up the public and fill seats for months." —The New York Times.

"SIDE MAN…is an elegy for two things—a lost world and a lost love. When the two notes sound together in harmony, it is moving and graceful…SIDE MAN evokes their loss with sweet, but never sentimental, poignancy. Framed as a memory play narrated by the son of a skilled, passionate trumpet player, it has, at times, the depth of feeling of an exile longing for home." —New York Daily News.

"An atmospheric memory play, SIDE MAN spans three decades in the life of a Manhattan musician. Playwright Warren Leight, whose father was a sideman, incisively captures the pulse and climate of the New York jazz scene, with crisp dialogue and clearly drawn characters. What appears on the surface to be a familiar domestic drama subtly reflects the passing of an era with persuasive insight…The joy and despair of the musicians is skillfully illustrated." —Variety.