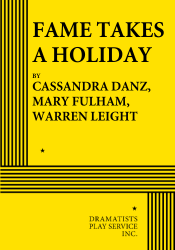 THE STORY: FAME TAKES A HOLIDAY tells the story of the High Heeled Women, a four-girl cabaret act, on the two worst nights of their show biz lives (including one in New Jersey). Onstage, the High Heeled Women perform a tight knit, madcap comedy revue with songs and sketches; backstage, they struggle desperately to keep their act together. By play's end, the High Heeled Women have lost everything, including their clothing, but they have learned the true meaning of success.
"…hilarious…[a] celebration of both girlishness and womanliness and its affection for the female iconography of the mid-twentieth century is difficult to resist…clever lyrics…entertaining original tunes…" —The New York Times.

"A light-hearted charmer…an irresistible spoof in the Nunsense and Forever Plaid vein." —Backstage.

"There is only one play in town with Bette Davis, Eleanor Roosevelt, and Iranian plate spinners. It's the same musical comedy that has a Busby Berkeley chorus line, Edith Piaf at her most maudlin, and a leopard-skinned jungle woman lamenting that her boyfriend thinks of her as Just Another Jane. The production is entitled FAME TAKES A HOLIDAY, and it puts all those zillion-dollar musicals uptown to shame. —WNYC Public Radio.