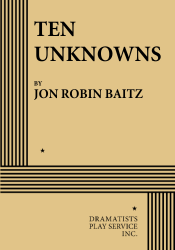 THE STORY: Decades earlier, Malcolm Raphelson, an iconoclastic American painter in his seventies, had been included in a group exhibition— "Ten Unknowns" —of up-and-coming artists to watch, but he quickly faded into obscurity after he turned his back on the New York art world which had dismissed his realistic style in favor of abstract expressionism. For the last thirty years, Malcolm has been living mostly alone in a self-imposed exile in a remote village in Mexico where he has worked "on and off…but more off than on." With the passing of time, the art world has come to re-embrace his style. Trevor Fabricant, a New York-based art dealer, tracks down Malcolm and attempts to convince him to mount a solo exhibition back in the U.S. To help the artist create new work, Trevor has recruited his ex-boyfriend, Judd Sturgess, to serve as Malcolm's assistant. A rising young painter, Judd quickly forges a bond with Malcolm and helps him turn out bold paintings on large canvases. Their friendship is thrown off balance, however, by the arrival of Julia Bryant, a biology grad student from Berkeley who has traveled to Mexico to study the seeming disappearance of a frog species in a nearby lake. When Malcolm invites her to live in his house and be his muse, Judd becomes jealous and leaves. The battle of wills between the young and older painters is at the heart of the play's explosive conclusion.
"…breadth and complexity…a sweet and delicate harmony rises from the four cast members…Mr. Baitz is without peer among his contemporaries in creating dialogue that spontaneously conveys a character's social context and moral limitations…" —The New York Times.

"…darkly funny, brilliantly desperate comedy…TEN UNKNOWNS vibrates with vital voices." —New York Post.