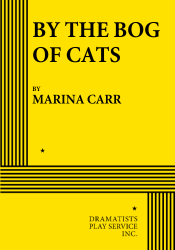 Full Length, Drama
6 men, 5 women, 1 girl, extras
Total Cast: 13, Flexible Set
ISBN-13: 978-0-8222-1856-2


MIN. PERFORMANCE FEE: $105 per performance.
THE STORY: Loosely based on Euripides' tragedy Medea, this is the prophetic tale of Hester Swane, an Irish Traveller, who attempts to come to terms with a lifetime of abandonment in a world where all whom she has loved have discarded her. Set on the bleak, ghostly landscape of the Bog of Cats, this provocative drama discloses one woman's courageous attempts to lay claim to that which is hers, as her world is torn in two. At the age of seven, Hester was abandoned on the side of the bog by her wild and fiercely independent mother, Big Josie Swane. Hester has spent a lifetime waiting for Big Josie to return. To compound her sense of abandonment, Hester's long-term lover, Carthage Kilbride, with whom she has a seven-year-old daughter, is selling her "down the river" for the promise of land and wealth through a marriage with the local big farmer's daughter. Alone and dejected, Hester has no one to whom she can turn except the local misfits, Monica Murray and the Catwoman. As ever in Carr's dramas, the small community is populated by richly woven characters—from the outrageous, stultifying mother of the groom, Mrs. Kilbride, to the brutal and mercenary farmer, Xavier Cassidy. In the final moments of the action, we witness a woman provoked beyond the limits of human endurance. BY THE BOG OF CATS is a furious, uncompromising tale of greed and betrayal, of murder and profound self-sacrifice.
"…this contemporary Irish variation on Medea [offers] a compelling look into a mind warped by human unkindness…it would be folly to miss this memorable illumination of a descent into darkness." —Bay Area Reporter.

"Pure poetry. No one has this kind of powerful voice. You have to go back to the classics." —Holly Hunter.