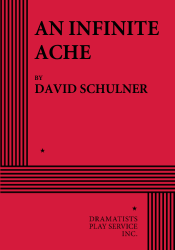 THE STORY: This is a fresh and heartfelt play about love, time and the infinite directions in which two lives can travel. Hope and Charles are a pair of lonely twenty-somethings about to end a supremely uninteresting first date. But just as they say good night, the myriad possibilities of their futures and a life shared together come rushing to meet them. From their first kiss to their first child, from a horrible tragedy to a second chance, each moment moves with breath-taking speed. A love story told with theatrical flair, AN INFINITE ACHE is as dazzling as it is insightful.
"Every once in a great while, a new play comes along that strikes so strong a chord of understanding that you feel it deserves to become a classic…AN INFINITE ACHE…is just such a work…the playwright manages sensitively to span lifetime experiences and deeply felt emotions, moving through time with rhythms all his own." —WMNR Fine Arts Radio.

"…[Schulner] can conjure laughter…his new two-character romantic comedy, AN INFINITE ACHE…charms." —Variety.

"In his new romantic comedy, AN INFINITE ACHE, playwright David Schulner takes to heart the adage that drama is life omitting the dull parts." —New Haven Register.

"David Schulner's sincere romantic drama is ingenious in structure…" —Norwalk Hour.