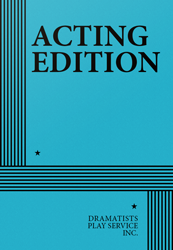 THE STORY:
Hailed by critics as an "an
Our Town
for our time," this play is by turns poetic and comic, romantic and philosophical. Peter returns to his twenty-year high-school reunion with dreams of winning back Kari, the girl he left behind after an unexpected pregnancy ended their relationship. Standing in Peter's way is Kari's bitter-as-ever resentment, her husband and the fact that Peter still hasn't grown up. As the night progresses, both Peter and Kari are led, through their interactions with a host of characters all played by a virtuosic Narrator, to face the consequences of choices made long ago and start back into life with newfound strength and bittersweet resolve.
Download "Down in the Ruined World" MP3 file:
Down in the Ruined World
"Wright has taken a simple premise and invested it with poetry, feeling and a distinctive voice…[He] manages a seamless blend of humor and pathos, philosophy and emotion…The script's greatest strength lies in the genuineness of its feelings." —Houston Chronicle.

"THE PAVILION offers a cheery existentialism—asking big questions in an easygoing, casual way…It boasts language that's rich but not dense…It also honors your intellectual and emotional intelligence, eschewing easy answers. Bravo…" —Minneapolis-St. Paul Star Tribune.

"Wright's perceptive, gently witty writing…makes this familiar situation fresh and thoroughly involving." —Philadelphia Inquirer.

"THE PAVILION, a gloriously theatrical treat by Craig Wright, turns the dramas of ordinary lives into the patchwork pattern of the universe." —South Florida Sun-Sentinel.