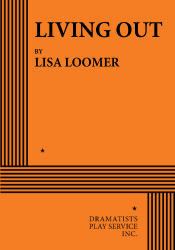 THE STORY: LIVING OUT tells the story of the complicated relationship between a Salvadoran nanny and the Anglo lawyer she works for. Both women are smart, hard-working mothers. Both want better lives for their children. The play explores what is the shared humanity between them…and what are the differences wrought by race, class and Ana's illegal status. Through Ana, we understand what it means to leave a child in another country to come here, and the potential cost of sacrificing one's own child in order to care for someone else's. Through Nancy, we understand the pressure on women today to "do it all" and the cost of making that choice. The play also looks at the prejudices and misconceptions between Anglos and Latinos. How do we make someone "the other"? What is the cost of doing so? The play is both outrageously funny and ultimately tragic.

Note: An alternative bilingual version of the play, with the scenes between Spanish-speaking characters fully in Spanish, is available for purchase in manuscript form through Dramatists Play Service upon request.
"A stellar new play. Searingly funny. Flawless direction." —The New Yorker.

"Both generous and merciless, equally enjoyable and disturbing." —Newsday (NY).

"A bitingly funny new comedy. The plight of working mothers is explored from two pointedly contrasting perspectives in this sympathetic, sensitive new play." —Variety.

"A splendid and thought-provoking slice of life. LIVING OUT manages to achieve in this production a specifically theatrical energy." —New York Post.

"Extraordinary. LIVING OUT isn't just engrossing, it's important." —New York Sun.

"Lisa Loomer knows how to make a thousand precisely rendered details add up to a devastatingly big picture." —Wall Street Journal.