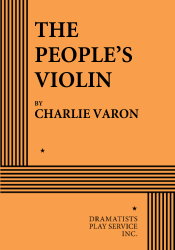 Full Length, Drama
1 man or 14 men, 5 women (flexible casting)
Total Cast: 1, Open Stage
ISBN-13: 978-0-8222-2002-2


MIN. PERFORMANCE FEE: $105 per performance.
THE STORY: A play about Americans and Israelis, Jews and gentiles, truth and deception. Sol Shank, 43, is an experimental filmmaker, transplanted New York Jew, and unhappy son of a famous man. Sol's father, Sidney Shank, is a psychotherapist, Holocaust authority, New York intellectual and author of two dozen books. Sol's wife, Nirit, is Israeli-born and herself a psychotherapist. To jump-start his faltering career, Sol begins work on a documentary film about his father. He discovers a mysterious violin, launching him on a quest that uncovers hidden chapters in his father's past. Evidence mounts that his father may not be who he claimed, forcing Sol to question what it means to be Jewish—and forcing the audience to question the meaning of identity, tribe and self. Framed as a documentary film itself, THE PEOPLE'S VIOLIN intersperses Sol's narrative with scenes set in New York, Chicago and Tel Aviv. Though not a comedy, the play frequently employs humor in its exploration of family relationships, culture and identity.
"A formidable work of art…generous in narrative detail and color, complex in its meaning." —San Francisco Chronicle.

"Astoundingly engaging…gracefully grapples with the distinctly American notion that we can reinvent ourselves." —San Jose Mercury News.

"A beautifully wrought drama." —Oakland Tribune.