Mrs. Bob Cratchit's Wild Christmas Binge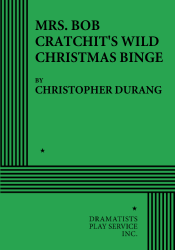 THE STORY: In this departure from Dickens, young Scrooge's exclamations of "Bah, humbug!" are an undiagnosed "kind of seasonal Tourette's Syndrome," and The Ghost of Christmas Past is played by a sassy African-American woman with enough attitude to portray all three spirits (which she does). She tries to show Scrooge his past, present and future in order to change him, but her magic keeps malfunctioning in Durang's version of the beloved holiday classic, and they consistently find themselves transported to the wrong time and place. She tries to take Scrooge back to see his old employers, the Fezziwigs— "always an audience favorite" —but instead she and Scrooge keep appearing in the present at the Cratchit's pathetic home. Mrs. Bob Cratchit, a minor character in the Dickens, takes center stage here. No longer loving and long suffering, Mrs. Bob is in a rage: She's sick of Tiny Tim (the goody-goody crippled child), she hates her twenty other children (most of them confined to the root cellar), including oversized Little Nell, and she wants to get drunk and jump off London Bridge. As the Ghost loses more control, the plot morphs into parodies of Oliver Twist, "The Gift of the Magi" and It's a Wonderful Life. And to make matters worse, Scrooge and Mrs. Bob seem to be kindred souls falling in love. With a dénouement that is two parts Touched by an Angel and one part The Queen of Mean, Scrooge's tale of redemption and gentle grace is placed squarely on its head.
"…A rollicking parody…splendid." —Pittsburgh Post-Gazette.

"Playwright's 'Christmas Carol' variation a hilarious success. Durang…has done it again. The show goes in so many wonderfully loony directions at once." —Pittsburgh Pulp.

"Fiendishly funny…never disappoints. Wild it most certainly is, without apologies. Send-ups are often immersed in venom, but this one wears an ear-to-ear smile." —Observer-Reporter.