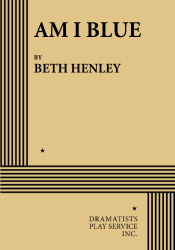 One Act, Comedy
3 men, 4 women (most women are non-speaking roles)
Total Cast: 7, Interior
ISBN-13: 978-0-8222-0021-5


MIN. PERFORMANCE FEE: $55 per performance.
THE STORY: The story begins in a seedy New Orleans bar where John Polk Richards, a college freshman whose fraternity brothers have paid his way into a bordello as an eighteenth birthday present, is bolstering his courage with liquor. He is approached by Ashbe, a fey young creature who invites him to the littered apartment that she shares with her absent father. As high strung and flaky as John Polk is nervous and tentative, Ashbe initiates him into her secret fantasy life as she tries to bridge the loneliness that infuses them both. She strings Cheerios to make a necklace and then nibbles at them; puts blue food coloring in John Polk's rum and Coke; lets him hear the sea in her favorite conch shell; and finally, invites him to make love to her—an offer that he politely declines. Sometimes wildly funny, sometimes gently affecting, the play is a wonderfully resourceful study of two young people, both unsure and apprehensive, whose unexpected encounter becomes, for both of them, a valuable lesson in coping with life—now and in the future.
Presented by New York's Circle Repertory Company as part of a triple bill entitled CONFLUENCE.

A highly original, offbeat comedy which ranges from hilarity to pathos as it details the chance meeting of a timid college freshman and the precocious teenager who lures him to her ramshackle apartment.

"…Joyously proves that her great Broadway hit CRIMES OF THE HEART was no happy flash in the pan. There is real gold in that there typewriter." —New York Post.

"Along the way we sample Beth Henley's wondrous gift for creating sweet comedy out of Southern eccentricities as well as her ability to reveal the sad loneliness beneath the spunk." —The New York Times.

"…Stamped with the trademark of this fine and vital writer." —The Hollywood Reporter.