The Undefeated Rhumba Champ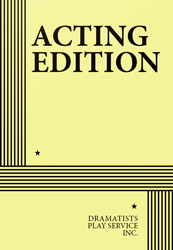 THE STORY: The scene is a hospital room where, Archer, a young veteran and amputee, is bent on seducing his prim and proper nurse. He feels that his self-esteem as a man (which has been undermined by the loss of his leg) will be restored by making love to Miss Harris—but she isn't having any. Trying another ploy, Archer snaps a disco tape into his recorder, and slowly Miss Harris gives way to her secret passion for dancing: her behind begins to twitch, her shoulders follow, and shortly she is dancing energetically about the room, loosening the buttons of her well-starched uniform. When Archer hops over to join her Miss Harris quickly regains control of herself—but the ice has definitely been broken and, as confidences are exchanged, it appears certain that something more substantial than the mere gratification of Archer's lecherous impulses may well be in the offing.
Presented by New York's Ensemble Studio Theatre as part of its one-act festival, this hilarious study of a lecherous amputee and the prim nurse he covets emerged as a masterpiece of black comedy. "…easily the liveliest of the four offerings" —NY Times. "…puts a hilariously funny face on a tragic event" —NY Daily News. "dreams up a farcical love story between two unlikely partners." —NY Post.