Drowning Sorrows - ePublication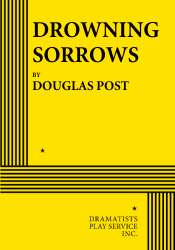 THE STORY: Duncan Crawford, a bartender on the island of St. John, is considering abandoning his bar for greater adventure when an heiress from Manhattan, Emily Miles, wanders into his establishment. She begins to tell him the story of her life: how she was left at the altar at the tender age of nineteen by a fiancé who mysteriously disappeared, how she has spent the past twenty years searching for this man, and how she now believes that she has found him in the person of Duncan. Duncan denies this, but Emily is certain. To complicate matters, Emily's husband, Raymond, an investment banker, offers Duncan $10,000 to pretend he is the man Emily is looking for in the hopes she will finally come to some sort of closure over the event. The story continues to twist and turn right up to the ambiguous conclusion: Duncan might be playing along with Raymond or he may actually be the man Emily claims he is.
"A specialty of playwright Douglas Post: a philosophical mystery…working in territory that Alfred Hitchcock explored…Post weaves in deeper considerations on memory, commitment and the strange ways of the passage of time." —Chicago Tribune.

"Post's play, unfolding in a swiftly moving succession of scenes without intermission, shines when his sharply drawn characters trade wisecracks and ironies." —Chicago Sun-Times.

"A kind of dramatic Rorschach test, Post's psychological puzzler forces audiences to fill in some tantalizing blanks." —Chicago Reader.