Call Me Waldo: A Transcendental Romance - ePublication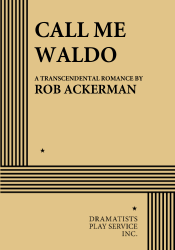 THE STORY: Lee Fountain is an ordinary electrician: his boss doesn't appreciate him, his wife keeps correcting him, and his life seems to have lost all meaning. But when Lee starts channeling the spirit of Ralph Waldo Emerson, everyone wakes up. CALL ME WALDO shows us how one person's poetic yearnings can change everyone and everything—even our imperfect world.
"A whimsical new comedy…boisterously funny…makes for an engaging 95 minutes." —New York Post.

"CALL ME WALDO is a great theatre experience, and as a bonus you'll walk away knowing more about Ralph Waldo Emerson." —NY Theatre.

"Bruce Springsteen by way of Woody Allen, the play CALL ME WALDO makes philosophy pop." —Ithaca Times.

"Energetic, entertaining, and just provocative enough to have you dusting off your Emerson." —Ithaca Journal.

"A wildly entertaining Rob Ackerman creation." —Cornell Daily Sun.