Bob: A Life in Five Acts - ePublication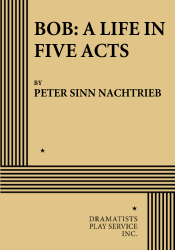 THE STORY: BOB chronicles the highly unusual life of Bob and his lifelong quest to become a "Great Man." Born and abandoned in the bathroom of a fast food restaurant, Bob energetically embarks on an epic journey across America and encounters inspiring generosity, crushing hardships, blissful happiness, stunning coincidences, wrong turns, lucky breaks, true love and heartbreaking loss. Along the way, Bob meets a myriad of fellow countrymen all struggling to find their own place in the hullaballoo of it all. Will Bob's real life ever be able to live up to his dream? BOB is a comedic exploration of American mythology and values, the treacherous pursuit of happiness, and discovering what it means to be truly "great."
"[A] comic amalgam of Brechtian epic theatre and vaudeville." —TDF Stages.

"The play's shockingly optimistic tone is downright subversive when you consider its subject: what it means to be a success in America. How are the new legends made? Slightly unsound of mind and decidedly stout of heart…Rather than an Arthur Miller-esque indictment of the American Dream, Nachtrieb proposes a more gentle—though no less emotional—revision." —Louisville Courier-Journal.

"There's exuberance and bounce in Nachtrieb's voice, and BOB evinces a loving, Ira Glass-y eye for off-kilter Americana." —American Theatre Magazine.

"An epic journey of self-invention, a picaresque comedy that sprawls across the American cultural and geographical landscape, taking in rest stops and mansions along the way. Nachtrieb's sketch-filled script hearkens back to Thurberesque satire, pointed but gentle, and unfailingly optimistic." —Louisville Eccentric Observer.